Basically serving as an online get a ride hailing application, Zuppin aims to meet its users' needs for group and tourism transportation. Zuppin platform, where you can make an instant or future-dated ride booking, distinguishes from its competitors by providing options such as vip cars, minibuses, midibuses and buses.
zuppVIP, zuppMINI, zuppMIDI ve zuppBUS
The idea first emerged in 2015 under the name of Otobüsbankası (Busbank), and changed in 2017 to become the Zuppin brand. Founded by Adnan Değirmenci, Mehmet Erkanar and Mustafa Bilge , Zuppin is currently being managed by a team of 8 people. Zuppin offers five types of vehicles, ZuppVIP for 1 to 9 people, zuppMINI for 1-19 people, zuppMIDI for 1-31 people and zuppBUS with a capacity of 46 people, allowing you both to call these vehicles and to receive offers.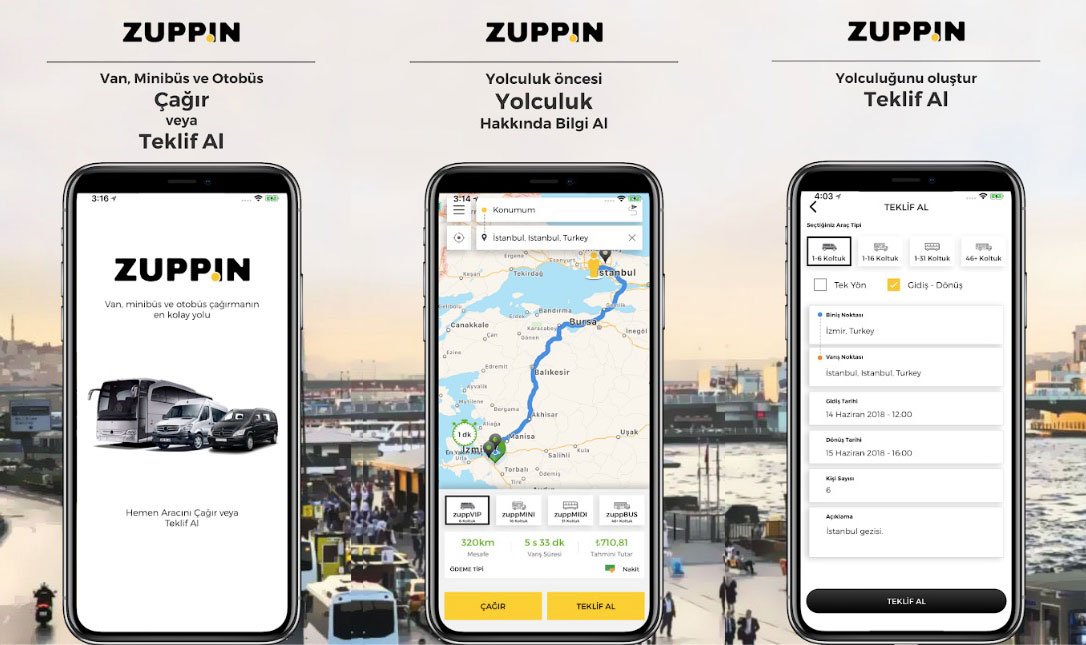 You can make a choice among the offers according to the criteria you want, such as service quality, vehicle type, vehicle specifications and price, and you can request a discount or bargain for the offers. Also, note that the instant call option is only available for zuppVIP and zuppMINI.
It is not possible to make an instant call for zuppMIDI and zuppBUS vehicles. First, you need to receive an offer in order to use these vehicles. Different from solutions such as BiTaksi, Careem, Olev, Uber and Yolo. Zuppin allows users to get a ride with higher capacity vehicles and to reserve vehicles such as buses, minibuses and midibuses with one touch.
Zuppin, which aims to provide its customers with easier and faster service by offering service quality and price advantage, has around 5 thousand vehicles present with D2 B2 licenses approved by the Republic of Turkey, Ministry of Transport and Infrastructure. Zuppin App, which is available for free for both iOS and Android platforms, has been downloaded by more than 10 thousand users so far.
Zuppin has a revenue model through drivers or fleet owners using the platform and generates revenue by collecting a system usage fee based on certain criteria.
Zuppin, which has been actively serving for about 8 months, has received more than 12 thousand calls and offers. According to shared information, an average of 50 journeys per day is achieved via Zuppin. Having started its operations in Istanbul, Zuppin provides service in major cities of Turkey including Izmir, Antalya, Ankara, Adana, Mersin, Izmir, Trabzon, Samsun, Erzurum, Gaziantep, Istanbul, Van and Mardin for now. You can download Zuppin App for Android here, and for iOS here.