While the growth of Facebook slows down, the company continues to develop new ad models that will generate revenue through its applications. The new model of advertising called "Promote", allows business pages on Instagram to show their stories to more users without doing much.
In this ad model, account managers can automatically target users similar to their followers in a particular location. Another option that administrators can use is transferring all of the Instagram's targeting parameters in their Stories and directing them to Instagram profiles or websites.
Let's add that Instagram has confirmed this new ad model called Promote. "Promote" is in fact really similar to Facebook's "Boost" option. The Boost model also allows page owners to quickly reach more users. An Instagram spokesperson said the following about this new ad model:
I can confirm that we are testing this feature globally. We don't have an immediate timeline for 100 percent rollout, but will keep you posted
The images shared by Matt Navarra show the simple use of the Promote ad model. Instagram already has 2 million active advertisers, compared to Facebook's 6 million. Instagram can expand its advertiser base with this new model. But designing and targeting ads, especially full-screen video Stories ads, can be daunting to small businesses and public figures. Promote offers an easy way to turn their existing Stories into ads.
Facebook, which has a massive revenue growth decline in the US, Canada and Europe, receives the most profit from its advertising revenue, and with this new strategy Facebook is also embracing new advertising revenue.
New beta version of Instagram Analytics launched today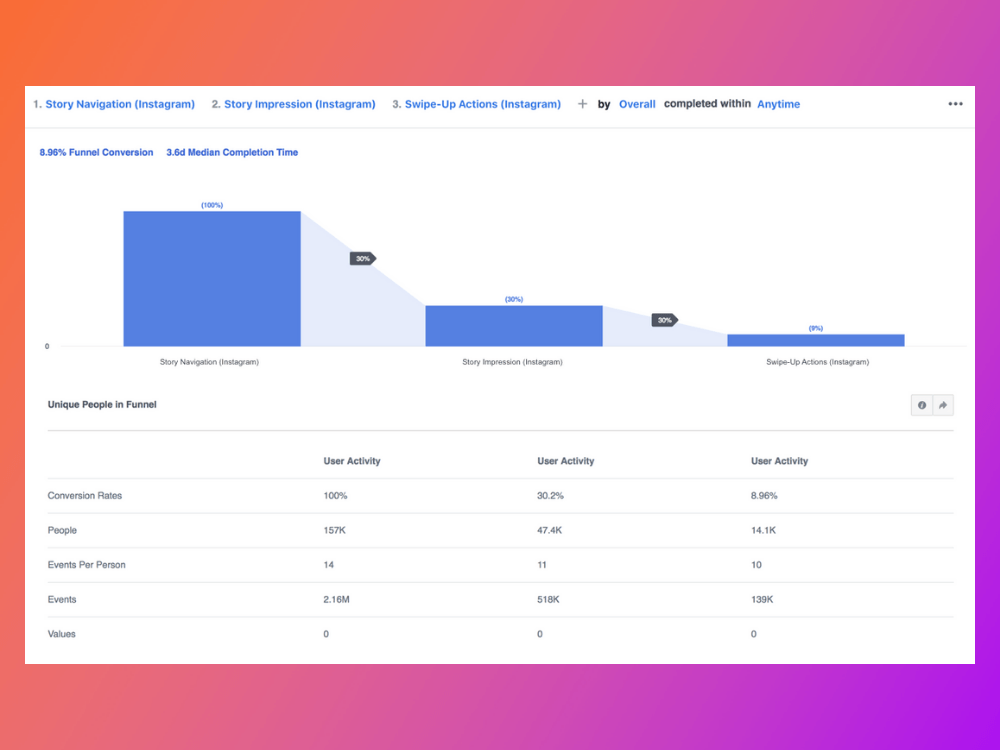 Today, Instagram has launched a beta version of Instagram Analytics as part of Facebook Analytics. This new tool contains much more detailed data than the statistical tool that Instagram had already provided.
With these new Instagram Analytics, business accounts can track life time value and retention rates for people who do or don't interact with their content, and create audience segments to see if people who commented on a particular post generate more value for them. They can also analyze how their Instagram audience overlaps with people who visit their site, download their app or like their Facebook Page.
Instagram Analytics becoming more detailed may also enable advertisers to increase their investment in Instagram ads. The fact that businesses can follow the journey of the followers closely and detailed will translate into more advertising campaigns on the platform.
What's new in IGTV?
Finally, let's share new news from Instagram's IGTV. In fact, IGTV has not quite blown up like Instagram stories. IGTV was launched in June by company officials in anticipation of the popularity of Instagram Stories. However, IGTV, which requires more focus than the Stories with its long videos, has yet to meet the expectations on the interaction side.
Perhaps because of this, Instagram has brought the ability to share preview of IGTV videos in Stories. Hereby users will be able to watch the preview video on IGTV by watching the story.
The IGTV previews don't actually play, they're just a static sticker. Shazam launched its own Instagram Stories integration today that works similarly to the IGTV previews, as well as SoundCloud and Pandora's partnerships.
IGTV has also recently added a History tab that shows what you've recently watched. On the other hand, Facebook will focus on the Watch TV platform by putting the news source format into the background, and later, it may include IGTV.
So far, it there are neither publicly announced deals to pay for IGTV content, nor have they opened any direct monetization options to creators. With viewership taking time to grow, there just aren't enough incentives for creators to invest in producing polished, longer-form vertical video when there's nowhere else to put it but IGTV. Therefor it is important for content creators to be able to post previews on their stories.